At present, Yunnan Kunming International airport successfully completed the energy-saving renovation of the second-phase apron high mast led flood light. UNIKE TECHNOLOGY provides professional comprehensive energy-saving services for it, using high-efficiency and energy-saving LED light sources, on the basic of comprehensively improving the lighting quality of the apron, achieving a power saving rate of 58%,which effectively promotes the construction of a green international airport in Kunming Airport.
Yunnan Kunming international airport located in the east of Kunming City, Yunnan Province, 27 kilometers away from the city center. It is an important trunk airport in China, an important airport for international scheduled flights, a first-class airport opening to the outside world and an alternate airport for international flights. It is known as the first air portal in Yunnan Province. Relying on the abundant passenger and cargo resources and strong aviation market demand in Yunnan Province and its surrounding areas, Yunnan Kunming International Airport has experienced rapid growth in transportation production and an increasingly large-scale route network since its establishment and opened to traffic.
In order to practice the concept of "green, intelligent, frugal and civilized"of the Asian games, In-depth implementation of energy-saving and emission reduction work requirements, Kunming Airport has fully launched the energy-saving renovation project for high mast led flood light. With its rich experience in EMC project operation, UNIKE TECHNOLOGY successfully undertakes the energy-saving renovation of high mast led flood light in the first and second phases.
Following the completion of the energy-saving renovation of 248 lamps on No. 2 apron in the first phase, the second phase of the project was launched. The renovation period is 4 months and the operation period is 8 years. The EMC contract energy management model is adopted. 288 sets of lamps in No. 6 apron, 143 sets of lamps in No. 7 apron, 341 sets of lamps in No. 9 apron, a total of 1,149 sets of high-pole lamps, implement LED energy-saving renovation, comprehensively improve and enhance the lighting quality of the apron, and achieve energy saving and reduction of emissions,cost of protection.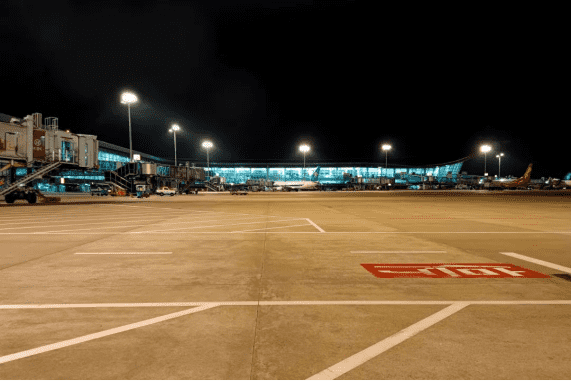 This renovation uses LED energy-saving lamps to replace traditional high-pressure sodium lamps, before the renovation, it includes 1073 1000W lamps and 76 400W lamps,with a total power of 1103.4KW. After the renovation, using our company's G series high mast LED flood lights with lower energy consumption, better light efficiency, longer life and lower maintenance cost were adopted. The total power dropped to 459.6KW, and the measured power saving rate was over 58%.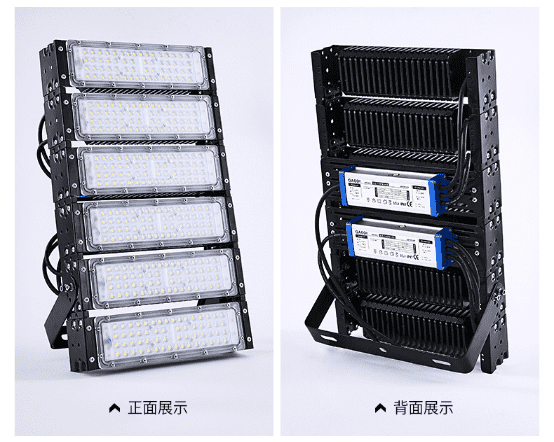 (click on the picture to view more product details)
At present, the project has successfully passed the acceptance inspection, and the quality of on-site lighting has been comprehensively improved. The average illuminance of the camera position has been increased from the original 20lx to over 40lx, and the uniformity has been increased to about 0.4. All technical indicators up to the acceptance standards, and the comfortable and bright lighting environment is better. It will ensure the safety of airport staff and help create a benchmark for "green airport" construction.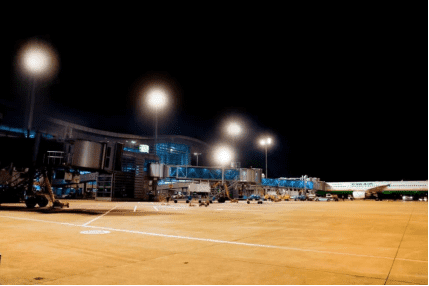 In recent years, UNIKE TECHNOLOGY has provided high-quality LED lighting contract energy management and energy-saving renovation solutions for many application scenarios and customers with its excellent product technology and professional service capabilities, including LED flood light,LED street light, LED gas station light, LED high bay light and solar energy series. In the future, UNIKE TECHNOLOGY will actively respond to the national call for energy conservation and emission reduction, practice the concept of green development, take the initiative to undertake corporate social responsibility, and participate in more lighting energy-saving projects with high-quality products and professional solutions, so as to achieve carbon peaks for my country, carbon neutrality and contribute wisdom and strength.
Welcome to contact us for more information!
Mail: sales@unike.cc
Tel / WhatsApp: +86 158 1737 7218